Release New LTC Series Lecturer Tracking Camera & STC Series Student Tracking Camera
2014-09-09
We are happy to release LTC Series advanced Lecturer Tracking Camera and STC series Student Tracking Camera!
The new tracking camera adopts the most state-of-the-art face recognition and motion tracking technology,it can precisely lock and track lecturer all around the whole classroom automatically, free of other moving or lighting interference,no need to wear any sensor, completely unmanned, dual lens both with up to 1080p60 format and HD-SDI interface, almost zero setup.
The student tracking camera can precisely detect student's standing & sitting behavior, then gives them close-up or full view image accordingly, all done automatically.
LTC-S2007 Lecturer Tracking Camera
※ Precisely Lock & Track a specific object
※ Free from any light/moving interference
※ 1x Priority tracking area + 8x blocking zones
※ No limit to tracking area
※ Auto zoom in/out during tracing
※ Smooth & Intelligent tracking capability
※ Easy setup & Configure
STC-S2007 Lecturer Tracking Camera
※ Precisely detect students's standing & sitting behavior, then give them close-up or full view image accordingly
※ No limit to tracking area
※ Auto zoom in/out during tracing
※ Smooth & Intelligent tracking capability
※ Easy setup & Configure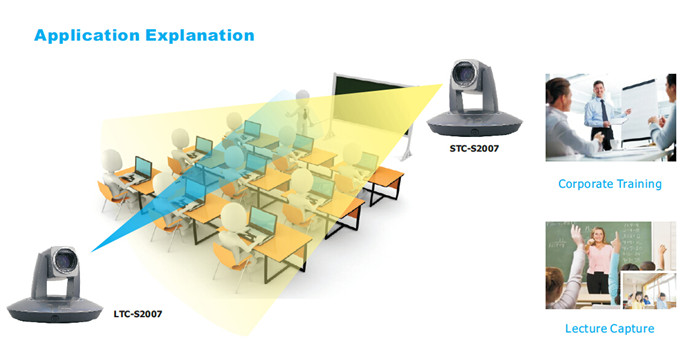 PreviousUSB PTZ Video Conference Camera & USB Desktop Microphone for Meeting Room
NextNotice